SCROLL DOWN TO SEE THE GUIDE
OR CLICK LINK on blog archive>>>>>
BUILD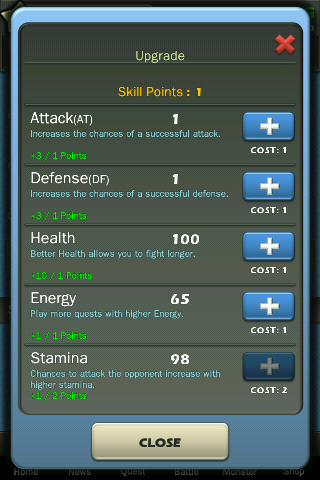 Super Multi Hitter
──────▄▄▄▄▄███████████████████▄▄▄▄▄──────
────▄██████████▀▀▀▀▀▀▀▀▀▀██████▀████▄────
──▄██▀████████▄─────────────▀▀████─▀██▄──
─▀██▄▄██████████████████▄▄▄─────────▄██▀─
───▀█████████████████████████▄────▄██▀───
─────▀████▀▀▀▀▀▀▀▀▀▀▀▀█████████▄▄██▀─────
───────▀███▄──────────────▀██████▀───────
─────────▀██████▄─────────▄████▀─────────
────────────▀█████▄▄▄▄▄▄▄███▀────────────
──────────────▀████▀▀▀████▀──────────────
────────────────▀███▄███▀────────────────
───────────────────▀█▀───────────────────
Only up stamina and energy
For early on, increase energy until it reaches 100 (Since new energy system is introduced)
Then, increase stamina until 100.
Then decide whether you want to boss more or gain more ancients monsters through quests
If you wanna hit more boss, then add stamina.
If you wanna quest more, add energy

*Note: Ancients purchasable with 20 jewel at level 81


Please note
DO NOT ADD POINTS TO HEALTH OR DEFENSE, It is highly unrecommended
In loving memory of
Luck Master
:C , farm for a reset luck! You can do it!
RIP
enemy42
who deleted his character for a free reset
CLASSES
Power
Ranger
- reduces energy cooldown by 30 seconds
Street
Fighter
- reduces stamina cooldown by 10 seconds
Bling Bling
Tycoon
- Increases income by 5% ----- (Thx Tucks for the information)
CALCULATION MYSTERY SOLVED --- (requested by TyJalat)
MAX ALLIANCE
(Your current level) * (30) = (Current max alliance size)
* is multiply
BATTLE CALCULATION
Damage calculation during bossing and battle.
Ever notice that sometimes you will deal more dmg and sometimes less dmg on bosses?
Well the damage ranges from -20% < Average damage > +20%
To see your average damage, attack someone and scroll down, you will see monster attack and player attack.
Add them both together and you'll know your average attack.
During battle with other players, the defense ranges from -20%<average defense>+20%
That is why you might lose and win sometimes during battle.
MONSTER CAPTURE CHANCE
35% + [(Your current level) - (Quest unlocked level)] = (Base Capture chance)
The % might be wrong, its an estimate Xp
More importantly,
Therefore, the
higher level you are, the easier to catch the monsters through quest